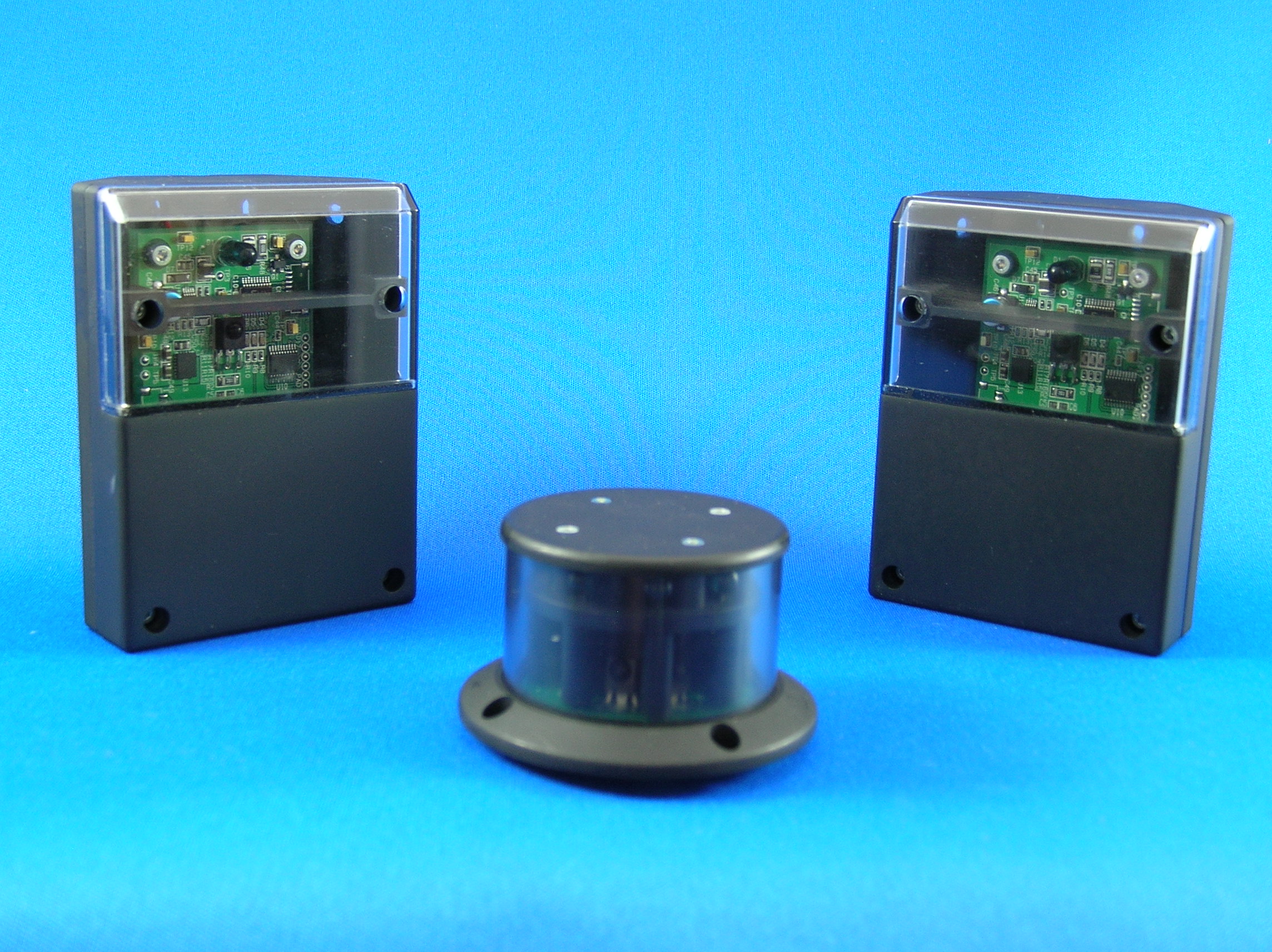 PA-R100 is designed to work with a service robot as a position sensor system to enable its autonomous movements.
Features
Position recognition with infrared code makes position control of a robot more flexible and easier.
The Main Sensor is capable of receiving eight different infrared codes at the same time.
The position sensor works in combination with a Main Sensor installed in the robot and an Echo Sensor located in the area that the robot is allowed to move.
Signals are sent from the Main Sensor on the robot (inquiry) and each Echo Sensor that detects the signal returns a signal (individual code) to the robot. The robot's position and direction in the designated area are recognized based on the angle in which the signal was sent back to the Main Sensor.
It's compact enough to be installed in an existing service robot.
Specifications
– Composition –
Main Sensor
1 (including CPU substrate and IR transmitter/receiver unit)This is a model with the Face Option.


(Click the thumbnail to show a full scale image).

Echo Sensor
2 (more available)

(Click the thumbnail to show a full scale image).

Remote substrate
1
– Communication –
| | |
| --- | --- |
| Communication method | Infrared ray |
| Center frequency | 38KHz |
| Communication speed | 2.5 Kbps (MAX) |
| Synchronizing method | Start-stop synchronous communication |
| Communication frame | 3BYTE – 255BYTE (variable) |
| Error detection | CRC 8 |
– Dimension –
Main Sensor
CPU substrate: 100 (W) x 40 (H) x 10 (D)
IR transmitter/receiver unit (standard): φ62 (MAX) x 43 (H)
(with the Face Option): φ62 (MAX) x 73 (H)
Echo Sensor
66 (W) x 88 (H) x 36 (D)
Remote substrate
40 (W) x 60 (H) x 10 (D)
– Power supply –
| | |
| --- | --- |
| Main Sensor | 200mA or less |
| Echo Sensor | 50mA or less |
| Remote substrate | 50mA or less |
– Temperature –
| | |
| --- | --- |
| Temperature range | 5℃ – 50℃ |
| Storage temperature | -20℃ – 70℃ |
Price
| | | |
| --- | --- | --- |
| PA-R100 | The device and accessories | To be confirmed |
Download
Type
Catalog (PDF)
※Under Construction
Instruction manual (PDF)
※Under Construction
Size
–
–
Updated on
–
–